What is Powher.fit?
We are an effective online fitness community that functions as a web based app. Once you become a member, you'll login on our top menu and our welcome page will walk you through set up based on your own personal goals. As a paid member (monthly or yearly recurring subscription options) of the Powher.fit community, you'll gain access to all of our training programs. Each movement within every program comes with an instructional video and voice-over commands to ensure proper form and performance. The workouts are both gym and home based, and you can switch between the two if you want! You can tailor this program to your own personal goals (losing weights, gaining muscle mass or both at the same time!) and each exercise movement will also have a modified (easier) movement as well as a more advanced (harder) movement. Powher.fit members will also be given a nutritional strategy plan to follow and will gain access to the member-only community. Quite possibly one of the most exciting things about the Powher.fit app is going to be the community forum, including recipes and meal guidance overview! This will be a place where the community can be held accountable and share tips, tricks, success stories, all while connecting with each other! Powher.fit members will also have priority email access to both Ben and Randa. Learn more about them below.  If you have additional questions about PowHer.fit, please read our FAQ page.
PowHer Fit Goes with Your Goals
Workout Virtually Anywhere
Every program within the PowHerFit.fit app comes with both home and gym specialized options. You can switch in between the home and gym options, which allows you to stay committed with a busy lifestyle and workout from virtually anywhere.
Workouts for all Skill Sets
Every exercise movement comes with standard, advanced, and modified options therefore you choose a workout that tailors to your skill set.
Virtual Video and Audio Coaching
Experience a virtual online personal training experience with our easy-to-follow video instructions and matching audio voice over coaching commands.
Tailor PowHer.fit to Your Personal Goals
You can set up and edit your nutritional overview based upon your personal goals as well as choose specific intensity guidelines within a given workout to equally match your personal goals.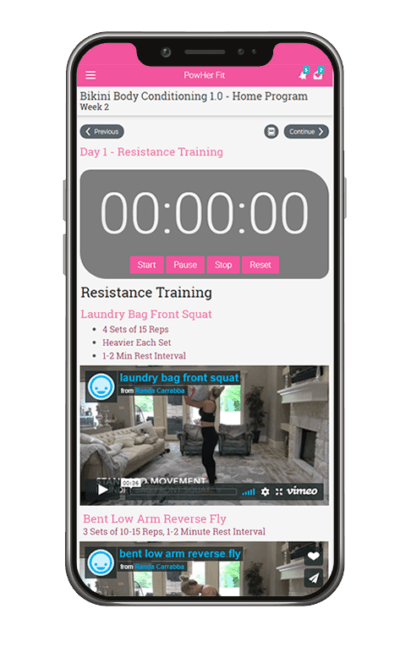 TESTIMONIALS
After having a recent kidney transplant, I wanted to tone up after losing over 50 pounds. I am able to do the home program of PowHer.Fit with the modified movements. I am transforming from weak to strong and from having very low endurance to much more stamina!
I absolutely love that PowHer.Fit is not a one size fits all program. I love that someone can start their fitness journey here and stay through muscle gain, fat loss and even reverse dieting! The fact that you are providing so much content and guidance at such an amazing price is a reflection that you aren't just another fitness program looking to make a quick dollar.
After battling with running injuries, I decided I needed more strength training and gave PowHer.Fit a try. Best decision ever! I just finished a half marathon stronger than I thought was possible.
Every time I see my picture I almost cry. I can't believe the changes I've seen from PowHer.Fit. I'm so excited to see how far I can go! Thank you for keeping me motivated!